Daniel Recio Mayo 11 2011
Lo puse en el foro, pero aquí se ve mejor. Ya no hay excusas. Además, para aquellos que vayan a asistir al primer
Evento de Formación Gratuita "Administración Lotus 8.5.2"
que haremos la segunda semana de Junio, podrán ir con ideas mucho mas claras.
Tenemos un nuevo
RedBook Optimizing Lotus Domino Administration
que recomiendo encarecidamente su lectura.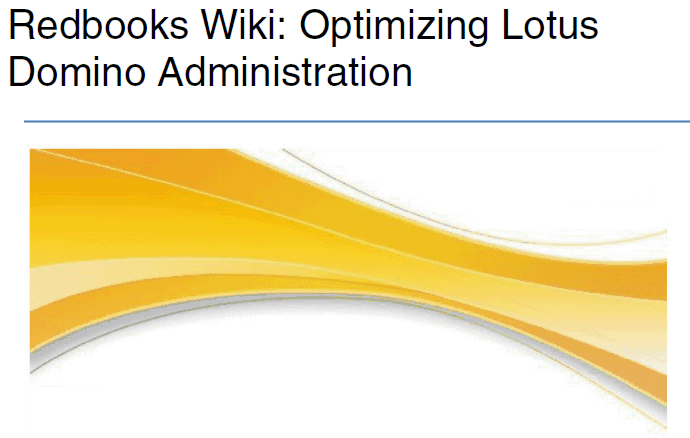 He estado revisando esta maravilla y hay verdaderas joyas, que no debemos olvidar en el caso de revisar nuestras plataformas.
He descubierto comandos de consola que desconocía como
CL COPY restore/mailfile.nsf restore/mailfile2.nsf
que permite restaurar una base de datos al data del servidor cambiando el ID de replica para evitar desastres
Apartados concretos de cada punto a revisar y optimizar.


High Level Checklist for Health Check
If you cover all these points, you will have performed a comprehensive health check:
Inspect Server Hardware
Inspect Server Configuration
Inspect Domino Mail Routing
Inspect SMTP Mail Routing
Inspect Domino Replication
Inspect Directory Services
Inspect Domino Clustering
Inspect Domino Security of Core Databases (names, admin4, events4)
Inspect Domino Server Topology
Inspect NOTES.INI files
Inspect Server Logs
Inspect Server Statistics
Inspect Server Documents
Inspect Connection Documents
Inspect Server Configuration Documents
Inspect Program Documents
Inspect Active Server Tasks
Report on Disaster Recovery Procedures
Report on Backup Procedures
Report on Number of Databases and Size
Report on Database Activity
Report on Agents and Runtime
En fin una maravilla que espero que todos os descarguéis.
Saludos