Hi. I want to donate a free template to the Lotus community. But for security reasons, I want to delete the log of servers whose Domino agents ran. I'm not a programmer so I need help. I signed the new template (ntf), open the views with ctrl+shift with no results. Please help me.
Hola amigos. Quiero publicar la plantilla de correo de más abajo. Tiene funciones interesantes y a los usuarios de Notes les gusta mucho. Además indica si un correo ha solicitado acuse de recibo y tiene la posibilidad de eliminar el acuse, je je. La cuestión es que necesito eliminar el rastro de los servidores Domino sobre los cuales ha sido instalada. Si no, no la puedo publicar. ¿Alguna ayuda? ¡¡ Gracias !!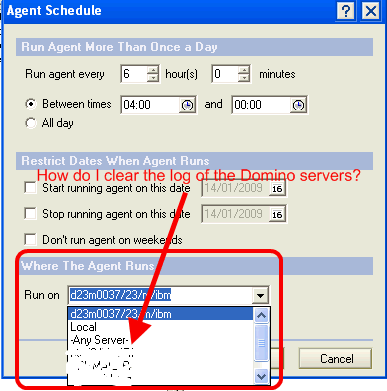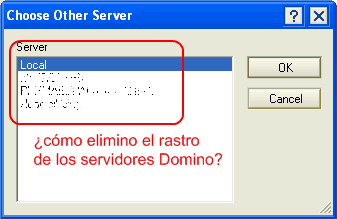 This is the mail template for Domino 7 Spanish users. I have not validated than runs well with Domino 6 servers.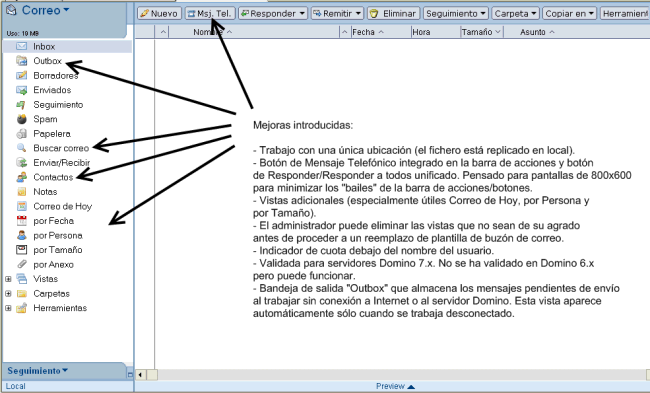 Esta plantilla es ideal para funcionar también con ordenador portátil y para trabajar desconectado. Si tienes el Catálogo de Directorios configurado puedes llevarte el directorio de la empresa condensado y replicado en el portátil. Así trabajas sin conexión a Internet. Los correos se acumulan en la Vista Outbox y cuando detecta Internet se conecta al servidor Domino y transifere los correos automáticamente. También es ideal para ubicaciones que tengan problemas de comunicaciones o mala conectividad. La razón para utilizar
Inbox
y
Outbox
en vez de Bandeja de entrada y Bandeja de salida es para que no se oculte el contador de mensajes nuevos en el marco. Como comentaba, el diseño está cuidadosamente estudiado para que no "baile" la barra de acciones (botones) ni haya que mover los marcos. Si me ayudas con la solución pongo la plantilla para descargar. Gracias.